Contributed by Kelin Baldridge, Project Archivist for the John Rhoden papers
One thing that has become evident in processing the John Rhoden papers is that Rhoden met a lot of people. Everywhere he traveled, both in America and around the world, John made connections and friendships with many other notable artists.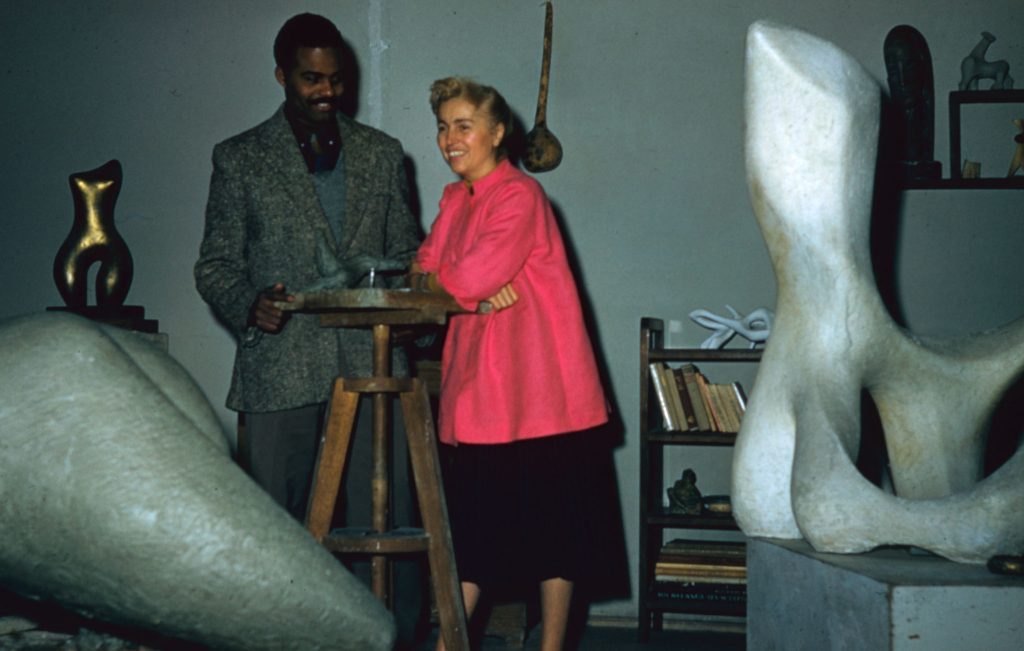 In order to highlight the breadth of his circle, we thought it might be interesting to do a series of introductions to the many people John encountered during his career, as evidenced by the John Rhoden papers.
First up is Serbian sculptor Ana Bešlić. John met Bešlić during his trip to the Soviet Union as an art specialist working with the United States Department of State between 1958 and 1959. In Serbia, John visited artists' studios, likely at the University of Fine Arts in Belgrade, on December 6, 1958. During this visit, he met notable Yugoslav artists including Bešlić, Sreten Stojanović, Mića Popović, Miodrag B. Protić, Olga Jevrić and Olga Jančić.
Bešlić was born in Bajmok, Serbia in 1912, at which time the town consisted primarily of Hungarians, Bunjevci, and Germans, with a much smaller population of Serbs. Bešlić was of Bunjevci heritage. She was the daughter of Lazo Bešlić, a landowner in Zagreb, Graz, and Vienna. Ana Bešlić attended school in all three of those locations.
Bešlić's career as an artist did not begin until after she was married. In 1939, she was admitted to the Academy of Fine Arts in Belgrade, though her studies were paused during World War II. She went on to become integral member of a group of artists who, in the 1950's, served as a pioneering force in contemporary Yugoslav art.
Several sources tie this movement of the 1950's to a few pivotal moments in Yugoslav culture including Miroslav Krleza's speech at the Writers' Congress of Ljubljana in 1952 and Henry Moore's 1955 exhibition in Belgrade. Krleza argued that Yugoslav Socialist art should be free from constraint and come in an array of styles. This speech made avant-garde, abstract, and modernist art (as opposed to realism and the re-working of traditional Western styles) a matter of patriotism. Moore's exhibition provided the artistic inspiration for many notable Serbian artists of the time. This movement culminated in the establishment of the Contemporary Art Museum in Belgrade in 1958.
As noted above, Bešlić was an integral character in this movement and the cultural moments above seem to have had a clear impact on her art. Moore's influence in particular is evident in Bešlić's penchant for monumental sculpture and her series of "associative forms," completed in 1959, which are directly reminiscent of Moore's numerous connected forms. In addition to outside influences, Bešlić found the whiteness of her sculptures to be deeply important and also referred to her abstract figures as deep studies of the female form.
Bešlić's associative forms were exhibited at the Rodin Museum in Paris in 1961, the Yugoslav Contemporary Sculpture Exhibition in Paris and Rome in 1961 and 1962, and at a solo exhibition in Belgrade in 1963. She additionally exhibited at the Venice Biennale in 1962. She won the October Prize of Belgrade (likely related to the October Salon, Belgrade's largest contemporary art exhibition) in 1979, the Pro Urbe Prize in 1997, and the Ferenc and Forum Prize of Bodrogvari.
Much of her work now resides in various locations in Subotica, Serbia, including the City Museum of Subotica, Palic Park, and the Subotica Theater.
Check back in for more profiles on the many interesting people in John Rhoden's circle!
Sources:
Örökszárnyaló: Ana Bešlić szabadkai Pro Urbe díjas szobrászművész halálhírére : https://web.archive.org/web/20110714021537/http://archiv.magyarszo.com/arhiva/2008/01/31/main.php?l=b11.htm
Designers & Creators Directory: Ana Beslic: https://www.spomenikdatabase.org/ana-beslic
Yugoslav Art and Culture: From the Art of a Nation to the Art of a Territory: http://www.yuhistorija.com/culture_religion_txt01.html
This project, Rediscovering John W. Rhoden: Processing, Cataloging, Rehousing, and Digitizing the John W. Rhoden papers, is funded in part by the National Endowment for the Humanities, a federal agency.
ABOUT THE NATIONAL ENDOWMENT FOR THE HUMANITIES
Created in 1965 as an independent federal agency, the National Endowment for the Humanities supports research and learning in history, literature, philosophy, and other areas of the humanities by funding selected, peer-reviewed proposals from around the nation. Additional information about the National Endowment for the Humanities and its grant programs is available at: www.neh.gov.