Contributed by the John Rhoden papers team, Kelin Baldridge and Jahna Auerbach
This week, our journey with the John Rhoden collection comes to an end. A year of full immersion in the life of John and Richenda Rhoden has resulted in a project that will soon be open to the public, for researchers, the curious, and everyone in between.
Anyone who works closely with a human subject – archivists, curators, historians, authors, researchers – can relate to the level of attachment that we, the John Rhoden papers team, feel towards John and Richenda Rhoden.
As sad as we are that our journey with the Rhodens has come to an end, we are immensely grateful to have had the opportunity to work so closely with their remaining legacy. Working with their archives, we get a glimpse of how charming and interesting people they truly were. They both lived fascinating lives together.
The physical remnants of one's life can be incredibly powerful. Though it will never be the case, we feel we knew them personally after connecting with the records they left behind. From the collection, we have been fortunate enough to learn that John Rhoden was a sharp businessman, resilient, joyful, and aware of how he could use his skills to help others. He created a path and a career for himself in an America that did not lend itself to his success.
The documents and the photographic materials come together in this collection to create a full picture of who John Rhoden was. The papers are deeply rooted in his professional life, but photographs of him smiling and of the way he interacted with those around him hint at the kind of man he was. Like many of us, John loved to document his travels by taking photographs. Browsing through the images, one not only gets transported back in time, but also gets to view the world through John's lens and perspective–underexposed and all.
The records revealed how kind, joyful, and charismatic both John and Richenda were. They seemed to be the type of people who commanded the attention in a room, and whose presence lifted the mood. What seems to have struck people about the couple was their warmth, openness, and generosity. Both were successful artists and professionals, but what seems to have stuck with people most was their character.
Another notable aspect of this collection is its expanse. Not only does it tell the stories of John and Richenda, it offers a full-color glimpse into the world in the 1950s, it tells the stories of many artists, lost and forgotten to time, it creates connections and networks among people, places, and things that might otherwise have nothing in common. In addition to telling the story of its primary subject, it contains seemingly infinite threads and tangents waiting to be fully explored.
As we now open the collection to public use, we wanted to thank the NEH and the incredible support system at PAFA that not only made our work possible, but downright enjoyable, through a global pandemic no less. Furthermore, we want to thank Hoang Tran and Dr. Brittany Webb for being the most incredible collaborators and leaders that two young professionals could ask for.
Though our official work with the Rhodens is ending, we are looking forward to using Hoang's Rhoden portal and visiting Brittany's John Rhoden exhibition many times when it opens!
A note from Assistant Archivist, Jahna Auerbach:
The portion of the John Rhoden papers that has had the biggest impact on me is contained in just one box, Richenda Rhoden's personal papers. From the beginning, I had a personal connection to Richenda because of all of the incredibly endearing photographs of her posing with her various cats.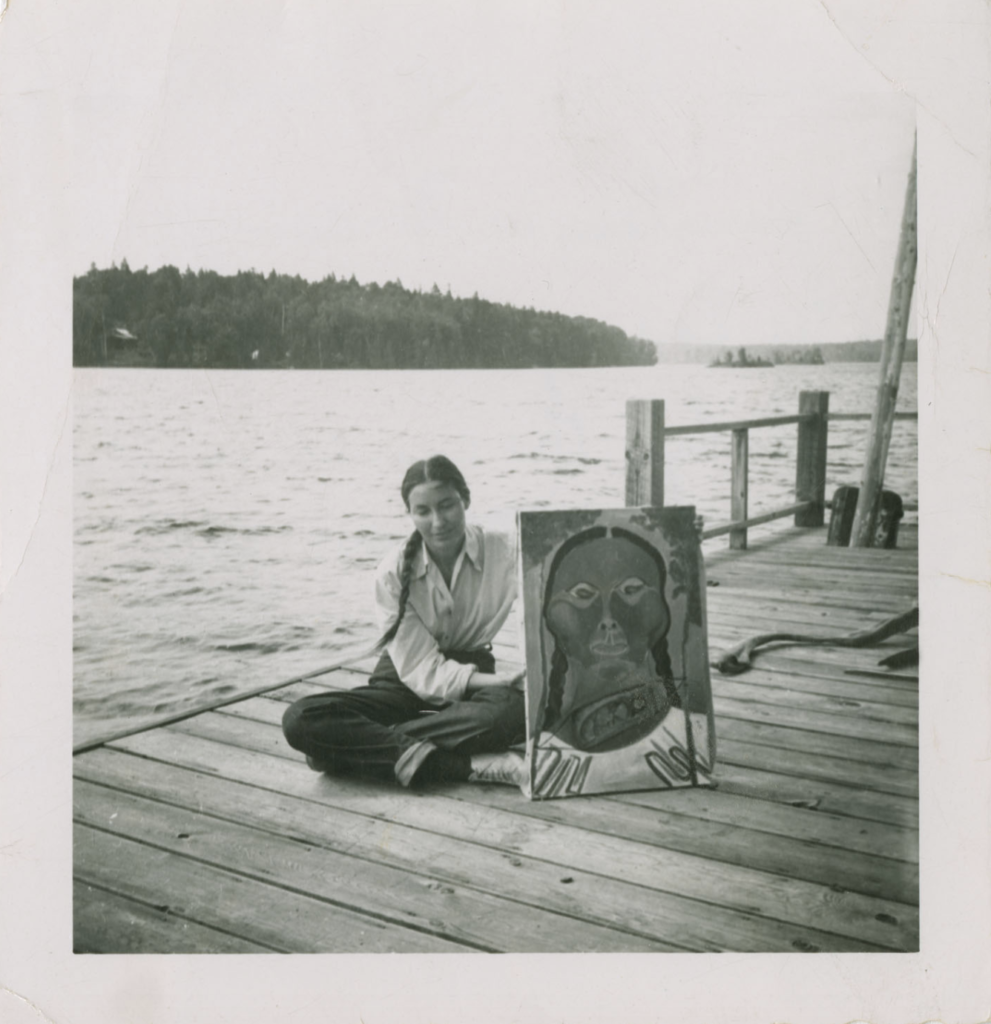 As we started digitizing her records, we discovered that this one box of papers is connected to many different parts of history, as discussed in previous blog posts and on the Rhoden portal. Richenda's parents met at the Carlisle Indian School and her father was the first Native American judge in the state of Washington. Her first husband, Lawrence Lew Kay, who was tragically killed in WWII, has a rich family history rooted in China, and the Chinese community in Seattle, WA.
Richenda was not just defined by the men in her life. She was an incredible person in her own right. She has been described as head-strong, wanting to do things on her own terms, chic, and striking in beauty. John and Richenda never had children, but they dedicated their lives to the community. They always welcomed people into their house whether it was for an annual Christmas party or for the public to see their studio and art that was constantly on display.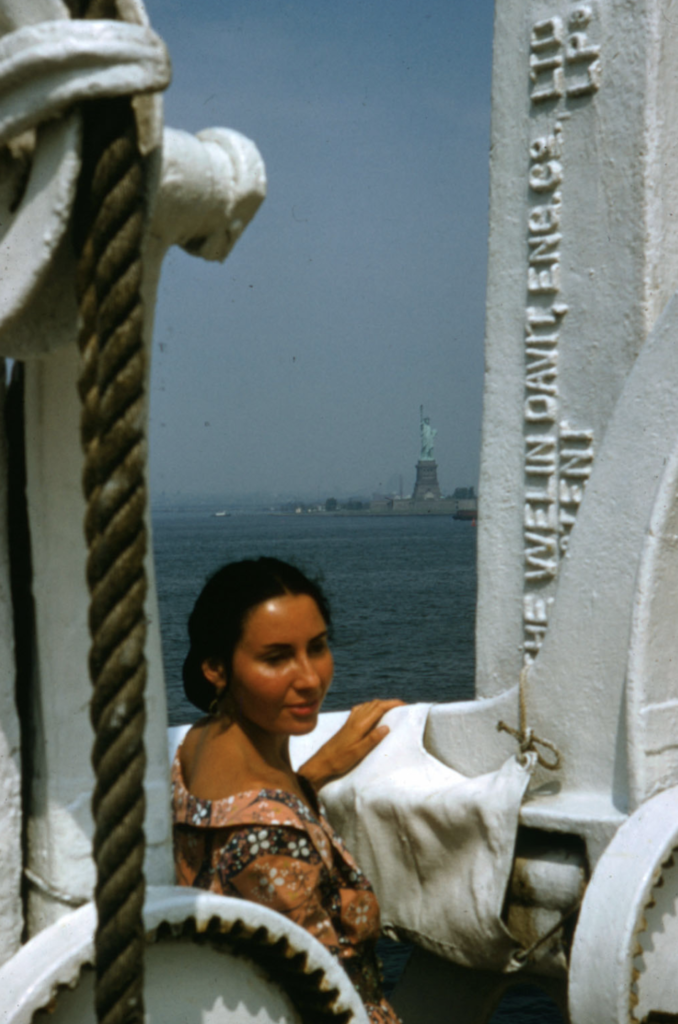 Richenda was an artist like her husband. She only showed a few times in her life, but she painted every day.
Richenda's portion of the archive has made me question a lot about evidence in the archive. What is present, what is missing, and what does that mean? Richenda lived alone at 23 Cranberry Street for almost 15 years, and yet, we have very little of her own records. Despite all of this we have been able to find a rich history of a woman. Without a doubt, Richenda's presence is evident and her history is recorded throughout the archive, whether it is in photographs, or labels she put on travel slides.
As Kelin and I wrap up this project, we are floored by the people on our team and members of the community that have helped us. From co-workers, family members translating Mandarin for us, to neighbors of the Rhodens sharing their stories. Lastly, huge thank you to Hoang Tran and Dr. Brittany Webb, who have been helping us and guiding us from day one.
This project, Rediscovering John W. Rhoden: Processing, Cataloging, Rehousing, and Digitizing the John W. Rhoden papers, is funded in part by the National Endowment for the Humanities, a federal agency.
ABOUT THE NATIONAL ENDOWMENT FOR THE HUMANITIES
Created in 1965 as an independent federal agency, the National Endowment for the Humanities supports research and learning in history, literature, philosophy, and other areas of the humanities by funding selected, peer-reviewed proposals from around the nation. Additional information about the National Endowment for the Humanities and its grant programs is available at: www.neh.gov.