Contributed by Kelin Baldridge, Project Archivist for the John Rhoden papers
John Rhoden's later career was buzzing with artistic activity. From the 1970's onward, he exhibited extensively and completed several major commissions. He exhibited at the University of Pittsburgh, the Whitney Museum, LACMA, the Birmingham Museum of Art, among many others. He completed Nesaika for the African American Museum in Philadelphia, Mitochondria for the Bellevue Hospital Center, Frederick Douglass for Lincoln University, and Reverend Fred Shuttlesworth for the Birmingham Civil Rights Institute.
However, despite this later career chock full of high art commitments, John's main priority seemed to be his community. He worked for the New York Board of Education, taught classes, shared his artistic knowledge, and, along with Richenda, hosted tours of his home and studio, and organized festivals for the community.
The Rhodens' later careers and lives seemed focused on community, friendships, and togetherness. These priorities are a major departure from their early lives as borderline-nomadic jet-setters immersed in the international art scene.
John's work as an educator is prominently documented in the John Rhoden papers. He was evidently beloved in the community and school system. He seemed to champion the students often underserved by the education system. Time and time again, he is showered with praise for his contributions:
"Your selfless concern for these students is an indication of your professionalism and your obvious commitment to them. You are an outstanding example of the many fine and dedicated teachers in our system." – Frank Macchiarola, Chancellor of the New York Board of Education, October 28, 1982
"Through your dynamic leadership, each of these students involved in your projects grew tremendously as students and as persons. It has been a pleasure to work with such a renounded individual such as you. Not only have you given insight into your extensive knowledge of the arts, but into your unselfish devotion to the cause of education for minority students." – Nellie Jordan, Director of East Harlem Career Academy, June 28, 1977
One of the most touching items from John's work with the community comes in the form of a two-page, handwritten letter from a student moved by John's contributions and work in 1978. As the student, Frank Conception, points out, Rhoden had already made it in the art world, and as such, his work with the younger generation is a truly selfless act. He wanted only to share his knowledge and help a new generation of artists (and people) rise up.

Outside of their work in education, the Rhodens maintained a prominent community presence with the founding and organization of the Cranberry Street Festival by Richenda. The Cranberry Street Festival was born from Richenda's craft stands with the intention of celebrating diversity and bringing together the community. In 2015, she explained what she loves about the festival to the Brooklyn Eagle: "getting people to work together…When they put the thing on it gives people the opportunity to meet together. I like it that a lot of different types of people and nationalities get so they can understand each other."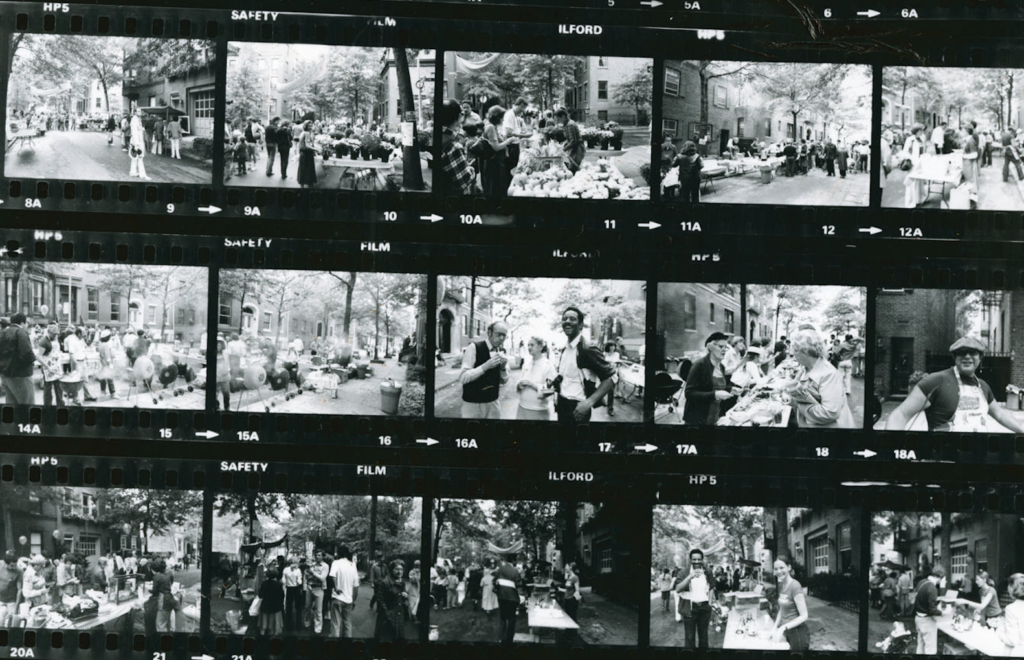 It is so easy to focus on the major moments in an artist's career at the expense of their daily contributions to the world around them. John and Richenda Rhoden seemed to commit their careers and lives to improving their community, bringing people together, and lifting up those around them. This personal mission is worthy not only of highlighting, but celebrating as one of the Rhodens' most significant accomplishments.
This project, Rediscovering John W. Rhoden: Processing, Cataloging, Rehousing, and Digitizing the John W. Rhoden papers, is funded in part by the National Endowment for the Humanities, a federal agency.
ABOUT THE NATIONAL ENDOWMENT FOR THE HUMANITIES
Created in 1965 as an independent federal agency, the National Endowment for the Humanities supports research and learning in history, literature, philosophy, and other areas of the humanities by funding selected, peer-reviewed proposals from around the nation. Additional information about the National Endowment for the Humanities and its grant programs is available at: www.neh.gov.